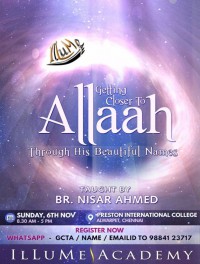 In the hustle and bustle of our daily routine, we tend to miss out on a lot of things. Most of the things we miss out on, are the ones that are most important!
The chaos of years past, brings us to a breaking point where all hope seems lost, all paths seems closed.. Except One - To your Lord.
Would you love to get closer to Him?
How much do you know Him?
He says to call Him by His Beautiful Names.
Do you know His Names and their meanings?
Learn to Call Him by His Beautiful Names.
Illume Academy presents a one-day workshop - Getting Closer to Allah through His Beautiful Names on Sunday, 6th November (8.30 AM - 5 PM) at Preston International College, Alwarpet, Chennai, taught and presented by Br. Nisar Ahmed.
Limited seating, available to those who register the quickest. To Register - WhatsApp GCTA / your name / email address to 98841 23717.
Workshop Rules and Regulations