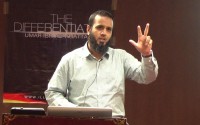 Psychologist, Certified Expert Trainer, NLP Master Practitioner, and Advanced Life Coach, with around 25 years of experience in IT, Training and Education sector, has played key roles in various positions of
leadership in corporate organizations and actively involved in multiple social initiatives/projects.
He is very closely involved with children of all ages and youth – constantly nurturing and building their character and bringing out the leader within them.
• CEO – Unity Group of Schools
• Founder of vLead Academy for Leadership – with a vision to build authentic leaders in our
Ummah, taking lessons from the Qur'an and Sunnah, based on the real role models from our
Islamic Heritage.
• Pursuing his BA in Islamic Studies from Knowledge International University, Saudi Arabia.
• Currently Designing/ Authoring Value Education Books for school children.
• Training over 1000 children on leadership skills each year.
• Counselling individuals, couples / family.
• Coaching individuals to reach their true potential
• Guiding / Training Teachers and School Leadership teams.
• Diverse experience in
• Leadership, Coaching, Mentoring, Counselling
• Education, Training, Competency & Course development
• Business Management
• Process Consulting & Improvement
• Program, Project & Change Management
• Strategic Initiatives
• Setting up Center of Excellence
• Event Management
• Da'ee / Khateeb / Motivational Lectures / Short-Talks
· Ramadan Get-Set-Go
· Sky is the Limit
· Return to your Lord - Tawbah
· Do not Envy (Al-Hasad)
· Tools of Obedience - Patience & Gratitude
· At-Taqwa
· The Love of Allah
• Workshops:
· Beautiful Names of Allah
· Getting Closer to Allah
· The Eye of The Storm – Conflict Management for Couples
· The differentiator - 2-Day Workshop on the Life of Umar ibn Al-Khattab (RA)
· The Lost Shepherd – A Parenting workshop
· Self-Discipline
· Communications Skills for College Students
· i-Teacher, a teacher training program for Islamic teachers